At the Watergate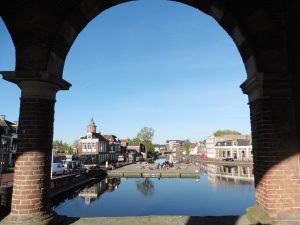 De poartebôge ropt it wolkom ta,
earst oan de bouwers op 't ponton,
dy't al betiid presinsje jouwe,
no al stimmen by de fleet.
Sy stimme 't bouwen op 'e lûden ôf
dy't klinke sille foar de rom
fan har dy't presintaasjes jouwe,
dagenlang en pontonbreed.
Dat wrâldwiid wei de stim fan jong talint
klinkt daverjend op 't Snitser wiet
en lit it Fryske bloed fluch streame,
read foar eagen, mar gjin need.
De need fan hiel de wrâld wurdt samar wei
as 't jongfolk yn beweging komt,
sadat de Kolk begjint te streamen,
rûnom… at the Watergate.