Bloed oer de baren
fan William Turner*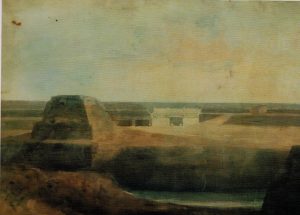 Sjedêr wat oerbleaun is
fan sultan Tippoo's poarte,
yn Britsk Ynje wiid ferneamd,
it giet úteinlik mis
as fûl it bloed fan blanken streamt.
Gjin wetter hâldt it tsjin,
it weaget oer de baren,
krûpt wêr't it net komme mei,
is út op frjemd gewin
en giet kanonreek achternei.
De skotten klinke fier
en sjonge fan de sege
heech en leech: 'God save the queen!'
Mei tûzen man yn 't spier
is 't by de poarte al gau dien.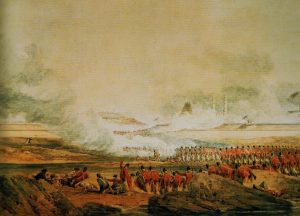 Fuort mei it frjemde bloed,
it Britske wol it weagje
mei geweld: 'It rûles the waves!'
Is Tippoo's folk yn noed?
Wat oerbliuwt, krije se fergees.
* William Turner (1775-1851)
Untwerp foar it skilderij
'De poarte as ferbliuw fan Tippoo'